Authors: Xavier Walker, Cherrie Bucknor, and Pam Coukos
First-generation college students/professionals are a unique population of people who are an increasing focus for diversity, equity, and inclusion efforts at colleges and universities, and that should become a formal part of workplace DEI programs. To be a first-generation student typically means one's parent(s)/caretaker(s) did not obtain a bachelor's college degree or higher – rather, their highest education can range from a high school diploma/GED to an associates/some college, or in neither. Given the criteria, we realize just how easily members of this group can get swept under the rug if not properly recognized by an organization; we cannot account for first-gen populations solely through primary diversity characteristics (race, ethnicity, gender, sexuality, disability, etc.). In fact, a study done by The U.S. Census Bureau on behalf of the Office of Civil Rights at the Department of Commerce, found that there are barriers to workplace inclusion and career advancement unique to first-gen populations – so more needs to be done.
Recruiting and retaining first-generation candidates should be standard practice as they are talent who could help any company go far. While research is still in an emerging phase, there is evidence that first generation students can make critical contributions at work based on their ability to navigate the challenges of college without the level of support continuing generation students may receive. Some qualitative studies have identified examples of several characteristics first-generation students may possess that can make them an asset in the workplace, such as: perseverance, social intelligence, proactiveness, optimism, goal-directedness, curiosity, graciousness, and much more. The potential to develop a generation of professionals that garner an immense amount of loyalty and commitment toward your organization is an opportunity that should not be missed.
Furthermore, first generation students are a population that could contribute significantly to Diversity, Equity, Inclusion and EEO as they exist today – especially in regard to racial diversity. The majority of first-generation students identify as people of color and make up the majority of minority-serving institutions' student body. So, keeping first-gens in mind could ultimately lead to improved diversity within your organization which is extremely important for company success.
Here are 5 reasons why first-generation students/professionals should be targeted in Diversity, Equity, and Inclusion efforts and recommendation on how to improve chances of hiring and retaining this population:
1.
A Person of Many "Firsts"
The challenges of first-generation students do not start and stop at being a student. Several indicators make this population especially disadvantaged in comparison to their non-first-gen counterparts. It has been found that on average, first-generation students come from lower socioeconomic backgrounds, which makes parent(s)/caretaker(s) less likely to be able to support the financial demands of college and the transition into early adulthood. First-generation students are more likely than their peers to be the first to generate their own wealth. This means early in their career, they are more likely to lack accessible funds or family wealth to aid in instances of relocation, emergency, or just mere leisure; these students are often incurring heavy expenses and debt much earlier than their peers (funding education, housing/rent, transportation, monthly expenses, etc.). Finally, these students may also become  first-generation professionals (FGPs) – first to earn a 4-year degree and/or obtain a higher level professional position than one's parent(s)/caretaker(s).
In many cases, it's a great feeling to get your first car and secure your first apartment, but as a first-generation professional, that typically comes with you having to spend your own money on every payment and expense of the way. While this can be an issue for many college graduates starting out, first-generation professionals are particularly likely to fall into this category. When living check to check, things can get difficult, quickly, so here's how employers can help:
Recommendation #1: Provide financial assistance to support your entry-level employees as they transition to the workplace. When a company is willing to provide relocation assistance as well as payment for travel expenses (for interview and/or visit), then one's talent pool can become much broader as you've eliminated the logistical barriers for any applicant who'd otherwise have to look the other way. This is particularly true where expenses are paid directly by the employer, rather than requiring the candidates to pay then seek reimbursement.
2. Pressure to find Employment
First-generation students can feel strong  pressure to find employment post-graduation due to losing the financial safety net of their institution. For some students, attending a 4-year university can be a means of living. The financial support provided by their university – whether that be in the form of scholarship (academic and/or sport), financial aid, and/or loans – is easily considered income for these students; these funds are used to pay for housing (dorm or rent), food/meal plans, transportation, etc. So as these years come to an end and the need to find employment comes around, these students may be more susceptible to having a necessity-driven (vs. opportunity-driven) approach to their job search. 
With the idea that your next stream of income needs to pay the bills, one could undermine considerations such as: searching for a job vs. beginning a career, or thinking your first job offer is going to be your best or only offer. First-generation students tend to expedite their job search which can result in them taking a job unrepresentative of their credentials. Kickstarting your career deserves a considerable amount of time and patience with minimal interference from outside factors, so, here's how employers can help alleviate these pressures:
Recommendation #2: As we know, many colleges and universities do a phenomenal job at identifying first-generation populations so organizations should take steps to partner with institutions' first-generation programs to support these students' early career development and potential for job security prior to graduation. Programming may consist of opportunities such as: specialized recruitment, internships, research, shadowing, seminars, career fairs, etc. It is imperative that we let these students know that there are avenues to explore in their job search and allow them to find opportunities best for them. 
3. Psychological Challenges
There are several psychological challenges first-generation students may experience that can possibly carry over as they enter the workforce. It can be a strange feeling landing a job and knowing that you make more than your parent(s)/caretaker(s) who've been making ends meet to take care of you thus far. Unfortunately, with that may come feelings of guilt and betrayal because no one wants their family to feel like they're being left behind by their child who's off living comfortably on their substantial income – even if it may not be the case.
Furthermore, in settings perceived as competitive – much like the workplace – first-gen professionals may be more susceptible to imposter syndrome – feelings of being a fraud or undeserving of one's position. Needless to say, for any employee that's been evaluated as experienced and qualified for their job, these sentiments should not persist. So, here's how employers can help:
Recommendation #3: To provide additional support  first-generation employees may need, companies should establish Employee Resource Groups (ERGs) for this population. In doing so, employers can develop a culture in which first-generation professionals feel integrated, supported, and recognized. It's important to create these spaces so that first-gens can connect with one another and have a platform in which they can highlight areas of need which may have gone unnoticed.
4. Thin Network
Where does networking start for new college graduates? With their family, perhaps their university. Well for first-generation students, access to professional and/or alumni connections through family isn't usually an option. How much do we hear "It's not about what you know, it's about who you know"? The weight one's network has on their employability is undeniable, and good references and letters of recommendations are essential to improving candidacy. Employers should take steps to address the inequity that first-gen students face in this aspect by thinking carefully about references and referral programs (which have their own DEI concerns). Here is one recommendation:
Recommendation #4: Include "first-generation student/professional" in self-ID rubrics. You should offer applicants the chance to share whether they identify as a first-generation student and/or professional. This is even more important if you ask "Do you have or ever had a relative that worked for one of our services/companies?" Like all self-identification questions, it should be voluntary and subject to appropriate privacy protections. These measures can help contextualize third-party application materials and/or questions and allow employers to track outreach to and engagement with this particular demographic.  
5. Misunderstanding of Work Experience
For recent grads, employers like to see experiences such as internships, research, and organizational leadership to determine employability – but there are more kinds of experience that can prepare someone to be successful in the workplace. While in school, first-generation students may have an increased need to support themselves; research has shown that first-gen students tend to work jobs outside of their institution and much longer hours than non-first-gen students. A focus solely on internships or specific pre-hire experiences could disadvantage first-generation students that perhaps worked at their local grocery, or were baristas at Starbucks — rather than working an unpaid internship or in research labs. Experience working in retail, hospitality, or many other kinds of jobs can yield valuable skills in problem-solving, interpersonal relationships, and responsibility. Focusing too narrowly on certain kinds of qualifications could limit the pool of talent being considered. Here is our final recommendation:
Recommendation #5: Employers should 1) explicitly ask entry-level applicants to list "all work experience" and 2) understand the value different experiences bring. These adjustments will allow you to gauge the full value of your talent pool. It is important to give entry-level applicants a chance to share  their transferable skills and experiences and consider what they might bring to your organization.
About the Lead Author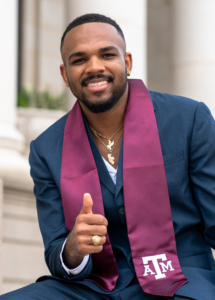 Name: Xavier Walker
Position: Undergraduate Intern, Summer '22
School: Texas A&M University
"As a first-generation student and having friends that are as well, I knew there were challenges we faced going into the workforce that I really wanted to unpack. Interning with Working IDEAL allowed me to learn a lot about how Diversity, Equity, and Inclusion translates into the workplace and therefore helped me formulate where the problem areas were for first-gen students. I am grateful for the expert team at Working IDEAL because they understood the need, and immediately worked with me on this project."
~
Working IDEAL provides trusted and innovative advice on inclusive workplaces, diverse talent, and fair pay. Our audits and assessments apply the best thinking on how to promote gender, race and other forms of equity in your pay practices. Our robust quantitative and qualitative reviews go beyond basic compliance to align effective compensation strategy. Contact us for more details. 
https://www.workingideal.com/wp-content/uploads/2022/10/WI-blog-first-gen-college-workplace-DEI-lo-res-jpg-iStock-1345842213-e1667242712168.jpg
895
1741
The Team at Working IDEAL
/wp-content/uploads/2016/12/WorkingIdeal_Logo-RGB.png
The Team at Working IDEAL
2022-10-31 14:08:13
2022-10-31 14:08:13
5 Reasons Why First-Generation College Students Should be a Target Population in Diversity, Equity, and Inclusion Efforts in the Workplace